INDOT Benchmark Locator

INDOT is in the process of reviewing its benchmark data. Only benchmarks that have been plot verified are displayed on the map. For a status of data review, please see the Data Review tab. If you don't find any monuments in your work area please e-mail
Benchmarklocator@indot.in.gov
or call (317) 610-7251 ext. 289 or 290.
Select the status of benchmarks to include in your search.
| | | |
| --- | --- | --- |
| | | Good- Good physical condition. |
| | | Not Found- The monument can not be found or located. Please add details in the Comments section. |
| | | Recovered- Previously listed as "Not Found" monument was located and intact. |
| | | Disturbed- Damaged tablet or setting. |
| | | Destroyed- Missing tablet, beyond repair, removed by construction. |
| | | Other |
Use Find By County, Road, or Township to list all benchmarks within the specified criteria.





Use
Find By Buffer
to list benchmarks within a .25 to 10 mi. radius around a point you click on the map.
Click on Map
Enter Deg. Min. Sec.
Enter Decimal Degrees


Select Buffer Distance (miles):

Uncheck or click

on the toolbar to re-enable benchmark info box.
Use
Find by Public Land Survey
to search a particular section of land.
Section
Township
Range
Principal MeridianFirstSecond


To use
Find by Benchmark Number
you must select the County, District and enter the four digit Benchmark number.

District:


Bench Number:
ex:(0099,99,99a)
Use the scroll button on your mouse to zoom in on the map for more detail. To pan the map hold down the left mouse button and move the mouse in any direction.
Use the
Find Benchmarks
tools to find and list specific benchmarks.
The toolbar on the upper left of the map may also be used for map navigation.
The benchmarks will appear on the map when you have zoomed in close to the highways.
You can left click on a benchmark to see detail information.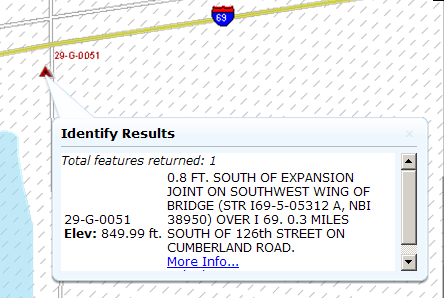 INDOT is currently reviewing all benchmark data. Only benchmarks that have been plot verified are displayed on the map. If you don't find any monuments in your work area please e-mail
Benchmarklocator@indot.in.gov
or call (317) 610-7251 ext. 289 or 290.
Show Status on Map
Data review status by county